Featured Centres - Sunderland MA, USA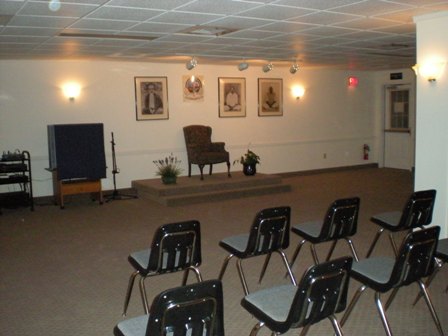 General Information
The Sunderland Ashram is located in the rural Pioneer Valley of Western Massachusetts in the town of Sunderland, Massachusetts. Sunderland sits on the east bank of the Connecticut River and borders Toby Mountain.
Before visiting the ashram, please contact one of the ashram Management Committee members as noted in the Contact Information section below.

Activities
In addition to three major birthday celebrations (Lalaji's, Babuji's and Chariji's), regional and day-long gatherings are held at the ashram on a periodic basis. Various seminars related to the Sahaj Marg practice of meditation are also conducted at the ashram. For more information about the activities at the ashram, please contact one of the Ashram Management Committee members listed below in the Contact Information section.
The ashram has a well stocked bookstore which includes reading, audio and video materials published by Shri Ram Chandra Mission. There is also a library on the premises which includes literature from a broad range of spiritual traditions.
Satsangh Schedule
Satsangh at the Ashram is held twice a week as follows:
Wednesday at 7:15 P.M.
Sunday at 7:30 A.M.
Contact Information
Ashram Address: 267 Amherst Road, Sunderland, Massachusetts 01375
Ashram Phone and Voicemail (for leaving messages): 413-665-8080
Ashram Management Committee (AMC):
Click on the following links for more details