July 24, 2015 Celebrations - Venue
Venue Directions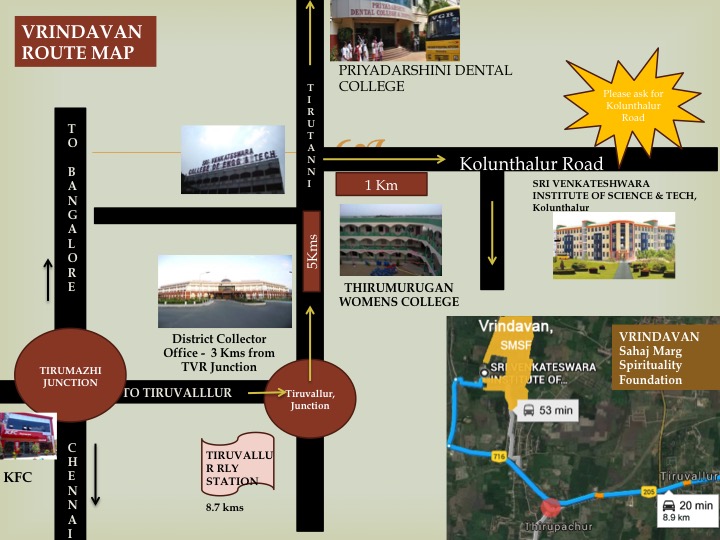 The venue is at a distance of about eight kilometres from the Tiruvallur railway station [Tiruvallur Junction]. Please follow the route map shown above.
Take left from Tiruvallur Junction and proceed towards the Collector's office. After this, continue towards Tirutanni highway bypass road.
Proceed another three kilometres on the Tirutanni highway road, and on the right side you would see the 'Vrindavan' signboard leading towards the ashram.
In Tiruvallur there are two colleges named Sri Venkateswara College. The venue is just behind Sri Venkateswara College of Science of Technology, Kolunthalur.
Note: Adequate signboards would be placed from Tiruvallur junction. Please follow the signboards, which would help abhyasis to easily reach the venue of the celebration.
Transportation
Venue of the celebration
Sahaj Marg Spirituality Foundation
'Vrindavan'
Chennai Tiruttani Highway,
Behind Sri Venkateswara Institute of Science and Technology
Kolanthalur and Tirupachur Village,
Tiruvallur – 631 203
Tamil Nadu
Note: For those travelling by road, search for 'Sri Venkateswara Institute of Science and Technology' or 'Sahaj Marg Spirituality Foundation, Tiruvallur' on google maps. Look out for SMSF banners around the venue for guidance.
By Air
Chennai is the airport closest to the venue.
Shuttles are being organised from the 21st of July to transport abhyasis from the Chennai airport to the venue. Reach out to the SMSF volunteers present at the airport on arrival.
Abhyasis may also avail of prepaid and fixed-price taxis, which are available at the Chennai airport.
Tirupati airport could also be considered. It is around ninety kilometres from the venue, but since it is a clear highway the travel time could be similar. Abhyasis arriving there can avail of airport taxis.
By Train
The venue is about fifty-five kilometres from Chennai Central (MAS) railway station. Transportation to the venue is being arranged via local trains from Chennai Central to Tiruvallur, and via shuttle buses from Tiruvallur station from the 21st of July. Reach out to the SMSF volunteers present at Chennai Central on arrival.
Abhyasis arriving in groups of fifteen or more at the Egmore station may intimate us in advance to make travel arrangements for them to the venue.
Overseas delegates may kindly note that train tickets between cities in India can be booked online at http://www.irctc.co.in. Payment can be made online with international credit cards as well.
By Bus
Abhyasis reaching Chennai by bus need to take Tiruttani/Tiruvallur bound buses (No. 596A) from the CMBT (Koyembedu) bus stop to reach Kosavan Palayam Bus Stop, National Highway 716 (around 2.5 kilometres away), from where, if informed in advance, pick-up buses can be arranged to the venue.
If abhyasis intimate us ahead of time, we can make bus arrangements from Koyambedu to the venue for abhyasis arriving in groups of fifteen or more.
Additional services
Delegates travelling by bus/public transport should reach Sri Venkateswara Institute of Science and Technology on the Tiruttani and Tirupati Highway in Tiruvallur. Shuttle services between the venue (which is 500 metres away) and the highway will be available.
For local commutation, taxis will be available at the venue for hire on a full-day basis or on trip basis.
Send your transport related queries, which are not addressed above, to 24jul15.transport@srcm.org. The transport team will endeavour to provide information, support and guidance.
Communication
Mailing address
Sahaj Marg Spirituality Foundation
'Vrindavan'
Chennai Tiruttani Highway
On Kolunthalur Road,
Kolunthalur and Tirupachur Village, Tiruvallur
Pin: 631 203
Office phone number: +91 9597871619
Contact person: Babu Chakravarthy/Rengarajan
Landmark: Via Tirumurugan Arts and Science College, behind Sri Venkateswara Institute of Science and Technology, Kolunthalur
Email
Registration: 24jul15.registration@srcm.org
Transportation: 24jul15.transport@srcm.org
All information: 24jul15.helpdesk@srcm.org
Children's centre: 24jul15.children@srcm.org
Phone
BMA toll free from anywhere in India: 1800-103-7726