CREST Bangalore - Facilities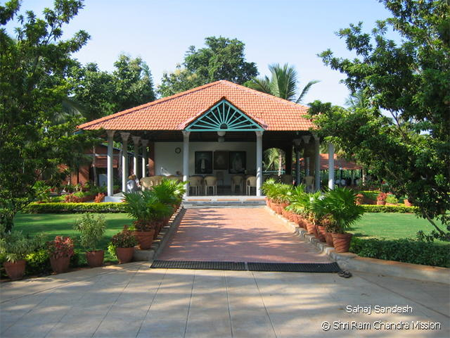 Dormitory: Accommodations for participants will be arranged in the dormitories at CREST. There will be no cots; bedrolls, sheets, and blankets will be available. The dormitories are provided with general bathrooms (separate baths for men and women, with hot water included) and with toilets.
Lecture Hall: All academic sessions will take place in the Lecture Hall, which is set up with sitting arrangements on floor space as well as chairs for all participants, a good acoustic system, and provisions for multimedia presentations.
Meditation Hall: The meditation hall, which is open on all sides, blends nicely into the natural surroundings. Chairs will be provided for those who require them.
Kitchen and Dining: Simple vegetarian food will be served. Breakfast, lunch, and dinner, plus coffee and tea, will be provided at the prescribed times in the general dining hall. Food brought in from outside is not allowed. The water supply at CREST comes from bore wells, and filtered drinking water is available.
Doctor: Please make sure that you are medically fit for the journey and the plain lifestyle at the ashram. Bring all your routine medicines with you. A doctor will be available, on an on-call basis only, for general consultation and the treatment of minor ailments.
Help Desk: A Help Desk is run by volunteers from local centres. These individuals will make every effort to make your stay comfortable and enable you to participate in the course meaningfully.