Vrads Sande Retreat Centre - Useful Tips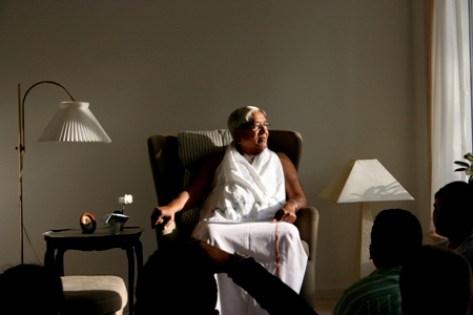 "I hope you will all have a wonderful retreat, whatever be the period of your stay. Please dedicate yourself to it from the very beginning, for retreats are not meant to be holidays, nor escapes from life, but escape from yourself into your Self, with a capital 'S', where lies the Maana Sarovar—the lake into which you have a dip, and come out clean, fresh, bright."
- Revered Chariji , Malampuza, 3 March 2008

USEFUL TIPS

Observe silence to the extent possible. Avoid unnecessary conversation

The atmosphere should be one of quiet contemplation and reflection.

A retreat period is truly a time for introspection and immersion in one's spiritual condition.Therefore it is strongly advised to maintain a personal, confidential record of your spiritual development. Everyone is encouraged to be especially alert to changes of condition as they occur throughout the day and to note them in a personal journal.

Participants who retreat only for three days are advised to avoid reading books of any kind (including Mission literature), as well as watching videos or movies during this brief period.

Participants whose retreats last for longer than three days are encouraged to take on simple tasks of short duration that support the physical upkeep of the retreat centre and ashram.

There will be no lectures, group activities, group satsangh or other activities of spiritual training for retreat participants. Master has advised that retreat participants should not attend daily satsangh. However, they may join the local abhyasis in the Sunday satsangh sessions if they choose to do so.

A resident prefect will be available for individual sittings, personal discussions and advice.

Participants are encouraged to set aside short periods for physical exercise.

You are encouraged to stay on the ashram property during the entire time of your scheduled retreat. If you wish to leave the premises please inform the resident prefect.

PRACTICAL INFORMATION
The weather in Denmark can be very changeable, and even summer nights can be chilly. We recommend that you bring warm clothes, rain gear, house shoes or warm socks, and a torch (flashlight) at all times of the year.


You can rent quilts, pillows and bedding, if you let us know in advance.


During the summer months there are mosquitoes and ticks. If you are sensitive to insect bites, please bring repellent, citronella, etcetera.


The running of the retreat centre and the ashram is based on voluntary donations. The suggested donation to help us cover costs is € 25 per day. We accept all major credit cards (Dankort, Visa, Master, Maestro).


You need to bring some cash (DKK or €) for transport, laundry, etcetera. Please note that we cannot accept foreign cheques.


The national currency is Danish Crowns (1 € = app. DKK 7,5). The nearest bank and ATM is seven km away.