24th July 2011 Celebrations
Invitation
Please click here to view the invitation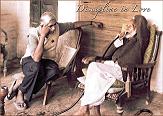 Celebration Dates
Saturday 23rd July to Monday 25th July, 2011
The bhandara (celebration) concludes on 25th July after the morning satsangh.
Circulars
Please click here to view Circular-1
Please click here to view the Transportation Circular
Travel advisory
Health Safety
With a measure to avoid health risks, it is advised that the following do not register for the celebration:
Abhyasis of age 75 or above who need special assistance, care and attention
Abhyasis with health problems who have been advised by their doctors not to travel
Parents with children below two years of age
Parents with special children who are mentally challenged
Abhyasis / children (irrespective of age) requiring constant medical care with support from guardians / attendants travelling with them
This is considered for the safety of such abhyasis by avoiding any health risks because of the climatic conditions in July at Tiruppur and due to limited health care facilities available at the venue.
Visas
All overseas abhyasis may please be advised that, this year, the Mission headquarters would not be issuing any certificates / recommendations / invitations for Visa purposes. Obtaining visas for visit to India for the celebrations as well as subsequent visits (for regional seminars) will be their own responsibility.