Medicine and Meditation conference at AIIMS
2023.13 - Sunday, 20 August 2023
Dear sisters & brothers,
All India Institute of Medical Sciences (AIIMS), All India Institute of Ayurveda (AIIA) and Heartfulness Institute are pleased to organise an International Conference on the theme ''Medicine and Meditation - Elevating Healthcare through Humane Values and Spirituality'' from August 23 to 25, 2023 at JLN Auditorium, AIIMS, New Delhi.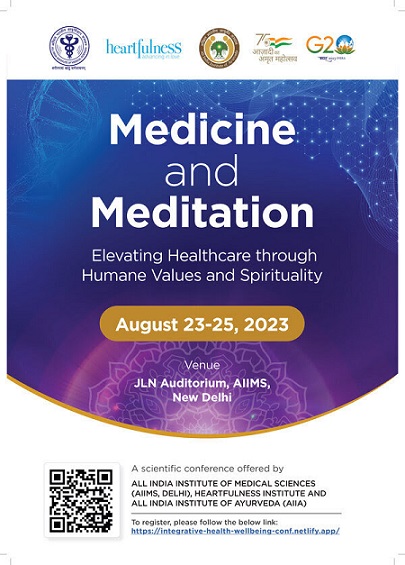 The conference aims to create a platform for academicians, researchers, healthcare professionals, and spiritual practitioners to explore the symbiotic relationship between medicine and spirituality. The event delves into the crucial role of humane values, spirituality and meditation in elevating the healthcare system to new heights.
We request all medical professionals, medical students and abhyasis working and studying in associated fields to register for this event.