CREST Bangalore - Library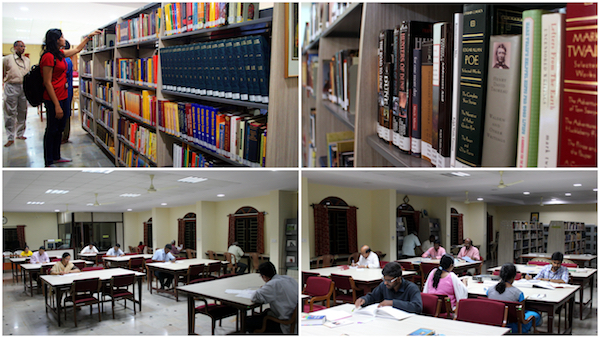 Befitting a Center for Research and Training, the CREST library provides both the infrastructure and a wide variety of reference books to get abhyasis started on the path of deeper study and research.
The CREST library has more than 4000 books and around 600 videos, many of which were personally selected by Revered Chariji from around the world. The collection includes nearly 1000 books on Philosophy & Psychology, 2000 on Religion and the balance represent books on Social Sciences, Languages, Science, Technology, Arts & Recreation, Literature and History & Geography.
The library is well-lit, with large tables and comfortable chairs around them, making the ambiance very inviting. The area surrounding the library has a lot of greenery, which adds to the conducive environment the library provides for intense study and research.
As of mid-2016 the Library had over 700 Lifetime Members. Abhyasis can obtain Lifetime Membership to all SMSF libraries, including the one at CREST, by applying through a prescribed form and sending it to the CREST address [ link to http://www.sahajmarg.org/web/guest/smww/crest-bangalore-contact ], along with a one-time donation of Rs.5000/. Both application & donation forms are available in PDF format for download.
a. SMSF Library Application form
Policies and guidelines for library usage