SMSF Singapore Meditation Center

Visitor Information
Location
The SMSF Singapore Meditation Center is located in middle of Singapore, accessible by MRT (Metro Train) and Buses.
Address
SMSF Singapore Meditation Center
LHK3 Building, # 05-03
8 New Industrial Road,
Singapore - 536200
Contact
Centre Coordinator: M V Rajesh
Hand Phone: +(65) 9180 7194 / (65) 81129944
Email: smsfsingapore@sahajmarg.org
Satsangh times
-Sundays: 7:30 am & 12.00 Noon
-Wednesdays: 7:30pm
Location Map of the Meditation center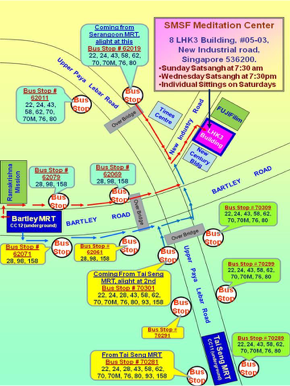 Please visit here to find other wednesday satsangh locations in Singapore:
Facilities
Main Meditation Hall
The SMSF Singapore Meditation center was inaugurated by Revered Master on 3rd July 2013. ?Apart from the daily group meditations, audio/video playing and training sessions are regularly held in the Meditation center. The Main Meditation Hall is fully air-conditioned and is fitted with state of the art audio visual equipment.
Library??The Main Hall room houses a library which stocks Sahaj Marg literature in various languages.
Children's Center
Children's corner with wide screen TV and video player
Space to store Children books / art materials
Space for individual sittings
Accommodation ??
There is no accommodation facility in the Meditation center. Several hotels, suiting all budgets are available. Please refer
https://www.tripadvisor.com/SmartDeals-g294265-Singapore-Hotel-Deals.html
For more information write to: smsfsingapore@sahajmarg.org