Universal Prayer
Audio talk on Universal Prayer given by Rev. Chariji at Birch Bay on July 28, 1989.
The fundamental elements of our practice—morning meditation, evening cleaning and night-time prayer meditation—are primarily meant for our personal spiritual growth and development. The universal prayer is a feature of the practice that is dedicated to the welfare of all. The instructions for the prayer are as follows:
"At 9:00 P.M. sharp every abhyasi, wherever he or she might happen to be at the time, should stop his or her work and meditate for fifteen minutes, thinking that all brothers and sisters are being filled up with love and devotion and that real faith is growing stronger in them. It shall be of immense value to them, which their practical experience only shall reveal."
- Complete Works of Ram Chandra, vol. 2, p. 198.
Thus at any given time, prayer is being offered throughout the world for the spiritual upliftment and well being of all humankind. All are welcome and encouraged to join in this universal prayer.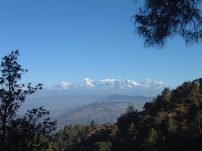 "When we want one humankind, one humanity, one world, perhaps one universe someday, we have to find the uniting factor, not the dividing factor! And that is what I think spirituality is all about."

- Chariji