Value Based Spiritual Education (VBSE)
For more than severn years, the Sahaj Marg Research & Training Institute (SMRTI), a wing of Sahaj Marg Spirituality Foundation, has been making available a complete Value Based Spiritual Education Curriculum to all interested educational institutions. SMRTI volunteers also train the teachers at these same locations, to enable them to continue with the programme.
Value based education might best be described as knowledge that illumines the mind and soul. SMRTI believes that to make value based education most effective, it is essential to include basic eternal and spiritual values. This approach will ensure that the student's inner quality of life improves hand in hand with their standard of living, bringing about a balance between the material and spiritual aspects of life.
With the experience gained over the years, we have observed and learned the importance of imparting spiritual values to the younger generation, by which we hope to build a society based on brotherhood, understanding and compassion. The student possessing such values is able to build character through experience and practice. This method serves the needs of young and old alike in today's world and helps them through the journey of life.
"We hope that the public at large and especially those in charge of education of our youth in this great land of ours will pay some attention to what we suggest and propose and adopt it in their own schools and colleges."
Parthasarathi Rajagopalachari, from the foreword to the booklet "Syllabus for School Children on Value Based Spiritual Education"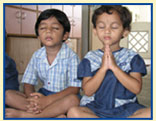 "The children and the youth have to become capable of creating a new world. How can you create unless you are capable? We have to acquire the capacity."

- Chariji (Constant Remembrance - Q&A session of Master with children at Augerans)