Dubai- Visitor Information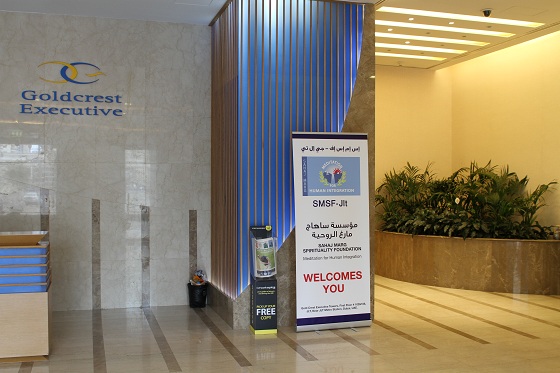 Visiting the Ashram
Group Meditation Timings
Fridays (weekend) - 8:00 a.m.
Saturdays - 8:00 a.m.
Sundays - 6:30 a.m.
Mondays - 6:30 a.m., 7:30 p.m.
Tuesdays - 6:30 a.m.
Wednesdays - 6:30 a.m.
Thursdays - 6:30 a.m.
Other Activities
Training programs as scheduled
Preceptor meetings as scheduled
SMSF/Heartfulness literature reading sessions as scheduled
Monthly extended sessions as scheduled
Culture and the Dress code
Knowing, respecting, and conforming to the local culture with strictly abiding to the local laws will help you to avoid misunderstandings/hassles and to get along well with everyone.
Dress neatly and in clean clothes. Wear long skirts or pants and shawls so that you avoid exposing your legs and shoulders.
Use your right hand when giving or taking something from someone or when touching another person. Only use your right hand when touching food.
Avoid touching someone with your feet or stretching out your legs in front of another person.
Directions
Metro :Main Red Line. Stop at JLT Metro Station and exit towards JLT side. Two minute walk.
Airport: Dubai Airport (40 km from airport). Abu Dhabi ( 90km) ; Sharjah ( 80km )
By car: Main Highway, Sheikh Zayed Road (See map).
Parking: Free parking is available on building's basement levels.
Useful Links
Metro: http://www.rta.ae/dubai_metro/english/home.html (Look for JLT metro station)
Taxi: Taxis are available on call. Tel 04-2080808; Toll Free 800 9090
Maps and routes to SMSF Ashram:
http://maps.google.com/maps/ms?msa=0&msid=203801130931804062173.000492c1cdf5aa25014e8
Contact
For general enquiries:
Bro. B.R. Subramanian - Mobile: +971-50-6527924 Email: brsmani07@gmail.com
Sis. Leena Talreja – Mobile: +971-50-6250925 Email: talreja58@gmail.com
Information / Event Registration:
Information / Event Registration: uae.info@sahajmarg.org or smsfdxb@eim.ae Tel: +971-4-4522 287
General information for visitors: http://www.dubai.com/