Dubai-Facilities, UAE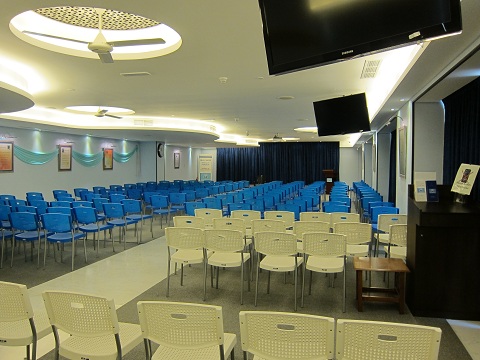 Facilities at the Ashram:
Main Meditation Hall
The SMSF Dubai Ashram was inaugurated by Revered Master on 21st January 2011. It is situated on the 1st floor of a commercial tower – called the Goldcrest Executive. It has entrances from the elevator in addition to a private entrance from the ground floor public parking area. The facility can accommodate about 500 spiritual seekers(abhyasis) in the Main Meditation Hall in addition to about 700 in the open private terrace.

Apart from the daily group meditations, audio/video playing and training sessions are regularly held in the ashram. The Main Meditation Hall is fully air-conditioned and is fitted with state of the art audio visual equipment. There is round the clock security in the building.
Library

The Main Meditation Hall also houses a library which stocks Sahaj Marg literature in various languages.
Children's Centre cum Office
Children's corner with wide screen TV and video player
Space to store Children books / art materials and SahajMarg literature
SMSF office
Space for individual sittings
Meeting room
Training room
Parking

Free parking is available on the ground Floor and on the three basement levels.
Toilet
Separate male, female and handicapped toilet facilities are available on the 1st floor itself.
Kitchen

No kitchen facility is available in the ashram. However several cafes and restaurants are located nearby.
Accommodation

There is no accommodation facility in the ashram. Several hotels, suiting all budgets are available. Please see Dubai information.