Getting to the Ashram
From the Airports
New Delhi Airport (Indira Gandhi International Airport, Delhi Airport, DEL), Bareilly (BEK) and Pantnagar Airport (PGH) are the nearest airports to the Ashram. From Delhi airports, Taxis and Metros are available to Train stations and Bus Stations in Delhi. You can also take a direct Taxi from here to the Ashram. From Bareilly and Pantnagar only option is to take a taxi to the ashram. Please refer to Taxis from Kathgodam section for further taxi arrangements.
From the Train Stations
Kathgodam (KGM) is the Last train station. Abhyasis (including abhyasis from outside India) can book train tickets on line at https://www.ircrc.co.in. Payment can be made online with international credit cards as well. Make a search for trains to Kathgodam and you will get a list of trains for Kathgodam from various locations of North India. Some of them are listed below.
Delhi (DLI) to Kathgodam (KGM)
Ranikhet Exp.(15013/14)
Departure from Delhi - 10.30PM.
Arrival at Kathgodam - 05.05 AM.
Departure from Kathgodam -8.30PM
Arrival at Delhi -04.30AM.
Uttarakhand Sampark Kranti (15035/36)
Departure from Delhi - 4:00 PM.
Arrival at Kathgodam - 10.40 PM.
Departure from Kathgodam - 08.30AM
Arrival at Delhi -4.30PM.
Shatabdi Exp. (12039/12040)
Departure from New Delhi (NDLS) - 6.20AM.
Arrival at Kathgodam 11.40AM.
Departure from Kathgodam - 3.30PM.
Arrival at Delhi -- 9.00PM.
Kathgodam is approximately 270 km from Delhi.Abhyasis are to look after their valuables and be alert at all times, of the surroundings. It would be advisable to keep copies of valuable documents like passports, pan card, tickets, etc. Beware of pick pocketers, especially in the Old Delhi railway station.
Lucknow to Kathgodam
Kathgodam Lucknow Jn. Exp. (15043/44)
Departure from Lucknow - 10.40PM<.
Arrival at Kathgodam - 08.00AM.
Departure from Kathgodam- 10.50 AM. Arrival at Lucknow - 06.40 PM.
Kolkata to Kathgodam
Howrah Junction to Kathgodam - Bagh Exp.(13019/20)
Departure from Howrah Jn.(HWH)- 21.45
Arrival at Kathgodam --09.30AM + 2 nights.
Departure from Kathgodam –21:55 PM.
Arrival at Howrah Jn.(HWH) - 12.40 PM.
Dehradun to Kathgodam
Kathgodam Dehradun Exp. (14119/20)
Departure from Dehradun (DDN)
Arrivalat Kathgodam - 07.10AM.
Departure from Kathgodam - 7.45PM.
Arrival at Dehradun – 4:20 AM.
Some more trains from nearby stations
Lal Kuan - Howrah Weekly SF Express (12354)
Bandra Terminus - Ramnagar Weekly SF Express (19061)
Naini - Doon Jan Shatabdi Express (12092)
Kathgodam Kanpur Central GaribRath (12256)
Kathgodam Jammu TaviGaribRath (12233)
Personal Cars
Follow The National Highway NH24 from Delhi to Moradabad and onto Rampur. From Rampur, turn left to take the National Highway NH87 for Bilaspur and driveon to Rudrapur. Continue onto Haldwani and Kathgodam.The total road distance is around 270km up to Kathgodam. Use Google Maps for directions. Use Satkhol Himalayan Ashram, Nainital, Uttarakhand for destination. Please note that drivers' stay and food is not permitted inside the Ashram. Abhyasis have to make arrangements for them outside the ashram premises.
Taxis from Delhi
Taxi bookings are possible from Delhi. Use the websites www.makemytrip.com or www.goibibo.com
OR use the private taxi below
Company Name: SWRAN Tour & Taxi
Address: 1/802, Old DTC Bus Stand, Shahdara, Delhi - 110032
Owner: Mr. Harminder Singh
Mobile Nos.: +91-9891585364 / +91-9350821727 / +91-9350904849
E-mail: swrantourandtaxi@yahoo.com
Buses from Delhi
Buses start from the lnter State Bus Terminus (ISBT) in Anand Vihar . Their details can be checked online at https://utconline.uk.gov.in.
For Satkhol, please take the bus up to Haldwani only, and change into the buses as detailed below.
Buses from Haldwani
There are two bus terminals in Haldwani, the KMOU terminal and the Roadways Bus Station, situated side by side. Buses are available only from KMOU terminal. Abhyasis have to get down at Dobatia, where the Ashram name is written on a big gate. Satkhol Ashram is 600 meters from this Dobatia stop.
The bus timings from Haldwani are:
Departure08.00AM.DobatiaArrival12.30PM.
Departure10.00AM.Dobatia Arrival2.30PM.
Departure12.30PM.DobatiaArrival4.30PM.
The bus timings from Dobatia are:
First bus 08.00AM.
Second bus 09.00AM.
Lastbus 2.00PM.
Taxis from Kathgodam
Taxis are available at the Kathgodam Railway Station to go to Satkhol. The normal taxi fares are
Rs.2500/- For 7 to 8 seater taxi (Tavera)
Rs.3500/- For 7 to 8 seater taxi (Innova)
Rs.1800/- For 4 Seater taxi ( Alto, Wagon R)
Rs.700/- will be charged extra to the above fares if pickup or drop from Lalkuan, Haldwani Ashram or via Nainital to Satkhol. Rs 1000 will be charged extra to the above fares, if the pickup or drop is Pantnagar airport. A pickup and drop from Bareilly airport will cost Rs. 8000 for Innova vehicle and 5500 for a sedan like Dezire.
Driver names and mobile numbers.
Nafeez: 94129 63653
Jambaaj: 98372 05854
Nannu: 99276 34628
?Ravi Kholia: 84450 52273
Mahender: 84456 19052
Vijay: 94583 21010
Satkhol Transport Coordinator - Balam Singh -Ph : 7248582729
Ashrams for Stopover
New Delhi Ashram
For abhyasis breaking journey in New Delhi on the way to Satkhol Ashram, overnight accommodation is available at the RK Puram Ashram. When you arrive there, it will be necessary to show your Satkhol letter of permission as well as your Mission ID card. For further details of registration to stay at Delhi ashram, please contact the Ashram Office.
Contact Person
Br. Tomar,
E-mail: zc.ncr01@srcm.org
Delhi Ashram Address
Yogashram Delhi
Plot 2 Sector 4
Institutional Area
R K Puram
New Delhi 110 912
Phone: +91-11-26197793
Haldwani Ashram
For abhyasis arriving at Haldwani/Kathgodam at odd hours, overnight accommodation is available at the Haldwani Ashram. For further details of registration to stay at the ashram, please contact the Ashram Office.
Haldwani Ashram Address
Bareilly road, Goraparao, Village Fathabangar, P.O. Arjunpur
Pincode – 263139
Mobile Number: 9456192967
Contact Person
R. C . Pandey, Ashram Manager
Mobile Number - +91 8191004144
Email id – rcpandeysbi@gmail.com
RoadMap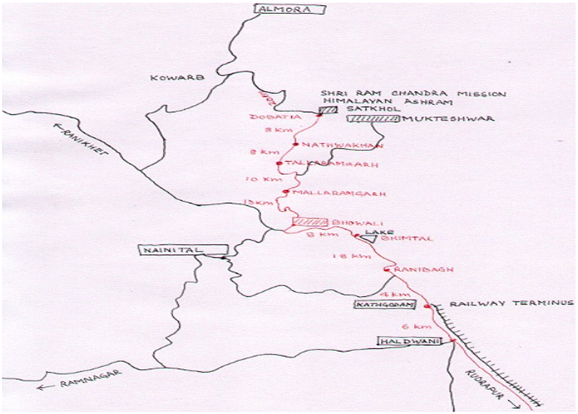 Ashram Address
Himalayan Ashram, S.RC.M.
Village-Satkhol, P.O.-Peura, Dist.-Nainital,
Uttarakhand, 263138, India
Phone
Ashram Office: +91-9368496523
Email